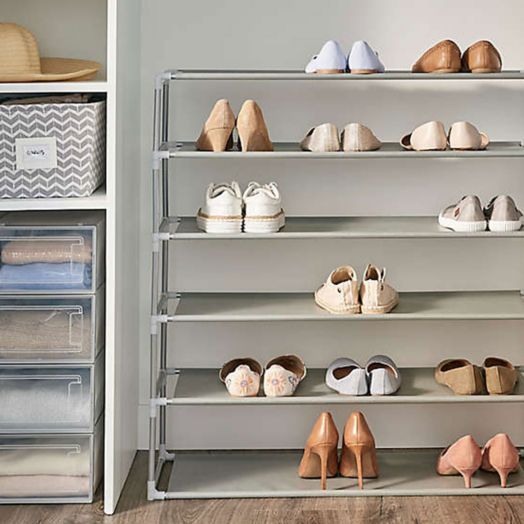 5 Tricks for Organizing Your Kicks
Put your best foot forward with these simple shoe storage strategies.
Jordy Geller, Guinness World Record holder for largest sneaker collection and proprietor of the Shoezeum in Las Vegas, organizes his 2,000-plus shoes chronologically. Oprah Winfrey organizes her extensive shoe collection by pain level, on a scale of 1 for orthotic slippers to 5 for stilettos.
What about those of us with more pedestrian shoe goals? Like, maybe we just want to free up enough space on the closet floor to close the door? Here are five essential solutions for organizing and storing shoes, no matter how large your collection or how small your space.
Shoe racks are your first step toward banishing closet clutter. They provide convenient storage while making it easier to see and choose from your favorite kicks. Shoe racks with bench seating are ideal for the entry hall or anywhere else you want to take a load off as you remove your shoes after a long day.
When space is tight, over-the-door racks let you convert any door into valuable storage space.
Hanging shelves make it easy to keep your shoes neat and organized. You can use these clever cubbies for storing shoes, belts, scarves—even your shoe-polishing supplies.
You can make the most of your space by paying attention to how you place your shoes. For example, Shoe Slotz Storage Units will double your current shoe storage, and work on existing shelves, shoe racks, or the floor.
If you are storing your shoes on a shelf:
Place pairs toe to heel to save space, especially with high heels.
Put one shoe in front of the other so you can see pairs without hunting through deep shelves and the closet floor.
Stack flats and flip flops.
Under-bed boxes are great for stowing off-season or rarely used dressy shoes. Another plus: they'll keep your shoes free of dust, moisture, and bugs.
Take It Out of the Bedroom
Has your shoe collection outgrown your bedroom closet? You can feel confident expanding into the attic or garage with these rugged clear plastic stackable boxes. These boxes can go anywhere and are ideal for hiking shoes, ski boots, or out-of-season footwear.
With just a little legwork, locating any shoe—and its sole mate—will require no fancy footwork. All you have to do now is kick up your heels.