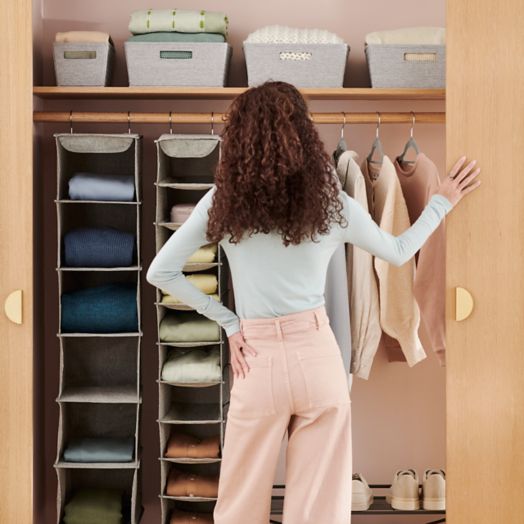 closet organization ideas
Is your closet overwhelmed by everything inside of it? Are your clothes disorganized? Are your shoes everywhere? If so, your closet might need a little help. We have plenty of closet storage items to get your closet whipped into shape in no time at all. When deciding what types of organizers to use in your closet, consider how much stuff you have versus the size of your closet.
Wooden hangers: If your trousers are heavy, wooden hangers are great. They won't break from the weight of pants.
Fabric hangers: Fabric hangers are ideal for blouses and shirts that are lightweight. These thin hangers also save closet space.
Metal hangers: If you're living in a dorm room, metal hangers are a good choice. They are slim, helping you maximize your space, but they are also sturdy enough for heavier items.
Plastic hangers: Plastic hangers are an affordable option that come in many different colors. You can choose smooth plastic hangers or ones with notches to prevent your clothes from slipping.
Features: Our hangers also come with garment strap notches and have attachments and accessory rings. You can store a lot of items in a small amount of space.
---
Pro Tip: Use different kinds of hangers in your closet. Don't limit yourself to just one option!
---
Bins: Storage bins are another great option for dorm room students as they are stackable, further maximizing space. Clear plastic storage bins make it easy to see exactly what you're looking for, while fabric bins can be used for décor.
Baskets and totes: These can go on closet shelves or right on the floor if you're out of room. Storage baskets and totes offer form and function, so you'll be proud to display them. We have a ton of options, including multiple colors and awesome patterns.
Cubes: Cube storage bins are easy to transport since they are collapsible. Available in multiple colors and patterns, they can be used as decorative elements. Shelves and cube storage systems are also great options.
---
Pro Tip: You can never organize too much! Switch things around until you find what works for you. We recommend clear plastic storage bins for busy bees who don't have time to dig around.
---
Under-the-bed: Space under the bed is often left unused. Store your shoes there while keeping them out of sight yet easily accessible when you need them.
Over-the-door: Keep your shoes off your closet floor with an over-the-door system. This is a great option for anyone who still wants their shoes close to their clothes for easy outfit ideas.
Shoe racks: You can customize a shoe rack and place it anywhere you want in your closet. Stack multiple shoe racks, too, to maximize space.
Clear boxes: Similar to shoe racks, clear boxes help maximize space when stacked. You can also see inside them, so you won't have to dig around to find the right pair of shoes.
---
Pro Tip: Keep your shoes off the floor! Flats, sandals, and slip-ons fit well in over-the-door organizers while bulkier heels are best stored at the top of your closet.
---
Garment racks: Garment racks are a great way to spread your clothing out so items aren't packed tightly together. Keep clothes easily visible while saving space at the same time.
Hanging storage organizers: These are perfect if you don't have much space. You can compartmentalize by keeping similar items together. Free up as much space as possible by hanging sweaters, shoes, and other accessories in one of these storage organizers.
Storage bags: If you're concerned about keeping your clothes in an environment with no dust or moisture, try vacuum-seal bags inside a larger storage bag. This budget-friendly option actually increases storage capacity rather than taking up space.
Double-hang closet rods: Simply put, these rods will quite literally double how much space you have in your closet!
---
Pro Tip: Think vertical when it comes to maximizing clothing storage space. In addition to hanging storage organizers and closet rods, consider installing shelving.
---
Key benefits: Hooks are great for smaller accessories like jewelry. They're also an excellent option for smaller closets that don't allow for larger organizers. Convert wasted wall space into functional storage space with as many hooks as you'd like.
Types: You can install hooks over the door, mount them on the wall, use them as closet rod hooks, or choose single or multi-hooks.
Uses: There are a wide variety of hook types available for many different uses. Hang handbags, hats, jewelry, belts, ties, towels, coats, and more.
---
Pro Tip: Use command strips to hang hooks without drilling holes in the wall. Whether you own your own home or live in an apartment or a dorm room, not having to fill the holes left by nails or screws is always a major plus!
---
Have fun organizing your closet! Don't be afraid to try different things to see what works for you. The best part of closet organization is that there's no right or wrong way. Happy shopping!