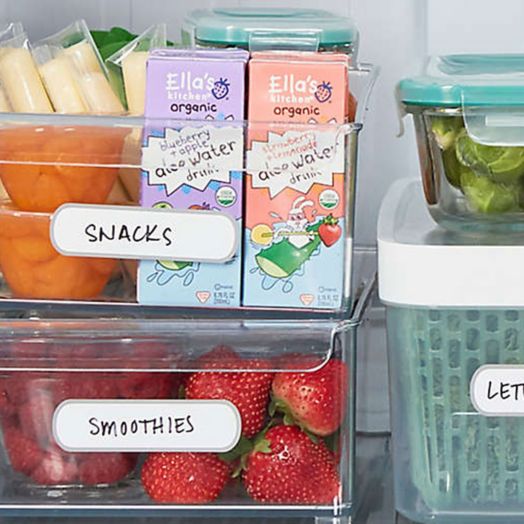 Help Desk: Organize Your Refrigerator
Use these expert tips and picks for instant order in your fridge.
There's nothing quite as satisfying as an organized refrigerator. When you can see everything you've got to work with, cooking and meal prep become a cinch. It's a beautiful thing. Need help getting yours in order? Try these expert tips and tricks from organizing pro Lisa Zaslow, and check out our video here.
With opaque containers, it's easy to forget what's in there and end up not using that food. Store food in containers that you can see through. You'll be able to easily see everything you have which helps with making grocery lists as well as the cooking process. It also makes it super simple for kids to locate snacks after school.
Place Leftovers at Eye Level
By storing your leftovers at eye level, you're more likely to see them and use them before they go bad. Be sure to store food in airtight containers, and always label and date what you're storing. We love Stasher bags for this, which have write-on surfaces.
Contain Your Fruit and Veggies
Is it just us or do fruits and vegetables go bad way too quickly? Keep them fresher, longer, with produce savers–they're total game-changers.
Get Clever With Condiments
Lazy Susans are some of our favorite storage pieces and can be used in any part of the house, even the fridge. We're all guilty of owning one (or a few) too many containers of salsa because the one we had been using got lost. Use turntables for sauces, nut butters, jams, and all kinds of condiments so they don't get buried in the back.
Keep raw meat on the lowest (coldest) shelf so there's no danger of it contaminating other foods. It's a good idea to use storage containers and bins as well in case the store packaging leaks.
Save Space With Proper Bottle Storage
You don't have to reconfigure your shelves just to chill your drinks. Just slot the bottles into organizers.
Create a "smoothie section" with juice or almond milk, yogurt, seeds, and flaxseed powder. Then all you have to do is add frozen fruit and blend. This also works for sandwich fixings, washed and cut veggies, recipe kits, and more. Weekday cooking becomes way easier.
Organized fridge, here you come!