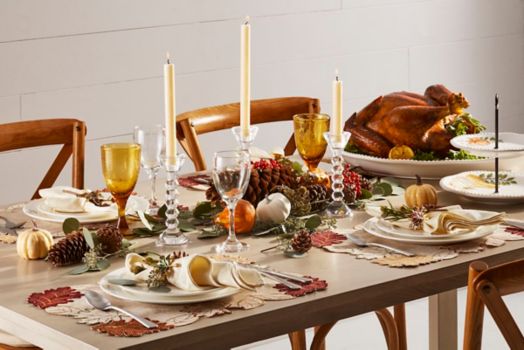 how to decorate for thanksgiving
10 ideas for creative thanksgiving decor, from tables to mantles
Thanksgiving is a time for friends and family, to eat well, and to give thanks. And if you're anything like us, it's also when you take great care to make your home feel extra warm and welcoming. Whether you like to go all out with fall foliage and rustic decor, or stay more minimal with a clean and modern scheme, there are so many beautiful ways to bring joy to your table, mantle, and walls. Here, we're sharing 10 inspiring ideas, from an elegant mantle in sparkling gold and white to a Thanksgiving table setting awash in dark hues for a modern farmhouse charm.
Bring a warm and cozy feeling to your Thanksgiving table setting with handsome plaid linens. Matching napkins and tablecloths always look sophisticated, while an assortment of mixed patterns creates a more casual and rustic vibe. For your centerpiece, repurpose something you likely already own: a large wooden cutting board. Then top is with anything fresh and autumnal, from mini pumpkins and squash to herbs and branches plucked from nature. If you don't have a plaid tablecloth, try using a blanket or layering a few of your favorite scarves.
See more table linens here
2. create an elegant mantle
There's no reason to limit your Thanksgiving setting to the dining table! Centerpiece designs are just as beautiful on a mantle, shelf, or coffee table. For an elegant look, try painting a few small pumpkins in shimmering gold, and fill glass vases and jars of varying heights with white twinkle lights for a soft glow. Forage some fallen leaves, pinecones, and branches and arrange them in a basket or bowl. You can turn up the elegance by spritzing them with gold and white, or keep them natural for a rustic Thanksgiving feel.
See more Thanksgiving decorating ideas here
3. try an unexpected color scheme
There's no reason why your Thanksgiving table setting has to be orange and brown. Why not try a more unexpected palette, like blue and white with pops of gold? An all-white centerpiece looks especially clean and modern (paper whites, roses, and peonies are typically available in November), while tableware in a bold hue is a fresh choice that, when paired with gold cutlery, creates an elegant ease.
See more dinnerware here
4. mix and match your glassware
Setting your Thanksgiving table with glasses in assorted styles, shapes, and sizes is a beautiful example of form meets function. It creates an elegant farmhouse vibe and alleviates the pressure to purchase extra glassware if you're hosting a large number of guests. Water and wine glasses in varying heights bring a lovely layered look to the table, and, if you have them, add a few copper mugs to the mix for a pop of shine.
See more dinnerware here
5. celebrate with rustic table decor
A farmhouse table layered with natural colors, textures and accents is always welcoming and perfectly seasonal. Look for table runners in earthy hues like rich oranges, browns, and reds, and sprinkle in a few mini pumpkins, squash, and candles to set the tone. If you're feeling crafty, try DIY-ing your own place settings out of little swatches of burlap, or trim and decorate brown lunch sacks with individualized name cards.
See more fall decor here
6. arrange candles in a warm and neutral palette
Whether your style is modern or rustic, elegant or farmhouse, candles are the easiest way to elevate your decor. And if you choose candles in a neutral palette of warm whites, they'll work wonderfully throughout the holiday season. Add a few pumpkins or gourds for Thanksgiving, then swap them out for pinecones and greenery when it's Christmas time. Try a grouping on a tray for a beautiful table centerpiece, or arrange them on a mantle or coffee table for an inviting glow.
See more Thanksgiving decorating ideas here
7. go for a darker color scheme
Where modern farmhouse meets elegant chic, a palette in rich grays and soft greens can be a surprisingly beautiful choice for your Thanksgiving table setting. Pair smoky glassware with pops of green, accentuated with natural touches like fresh eucalyptus and pumpkins in unexpected hues.
See more dinnerware here
Wreaths aren't just for Christmas! Greet the Thanksgiving season with designs rich in autumnal colors, from fall foliage and mini pumpkins to pinecones and sprigs of berries. Hang them on your door or exterior windows for a warm welcome, or try grouping a few together over your mantle for a rustic appeal. Want something that feels a little bit more modern? Choose wreaths in singular color palettes, like shades of green or wintry whites.
See more fall decor here
9. get crafty with table settings
A DIY project is a fun way to get guests in the Thanksgiving spirit, and it also creates a festive table setting! Cut strips of cardstock into the shape of turkey feathers and arrange one at each place setting with a pen. When your guests sit down for dinner, invite them to write what they're thankful for and then drop their note into the centerpiece, which can be anything from a large bowl to a little pincushion crafted into a turkey. At the end of the meal, go around the table and read the Thanksgiving wishes aloud. Cheers!
See more Thanksgiving decorating ideas here
10. Give thanks with your decor
'Tis the season to show gratitude, and there's no better place to express the sentiment than on your Thanksgiving table! Linens and dishware with special messages make the day feel a little more meaningful, bringing a smile to every guest's face. And that alone is something to be grateful for.
See more dinnerware here