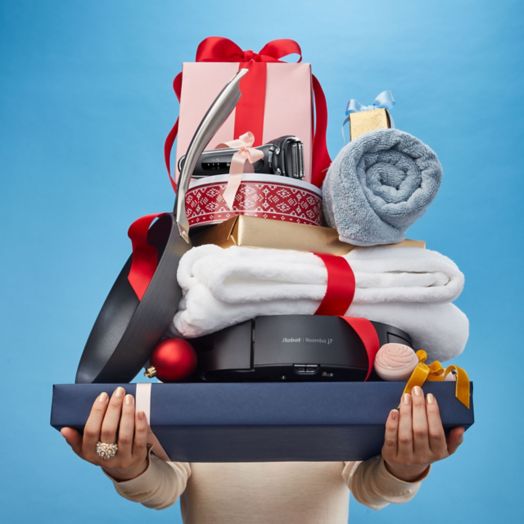 how to find the perfect gift for everyone
24 amazing gift ideas from our home, happier team
It's never too early to start shopping for gifts, and BB&B has tons of fantastic ideas to help you holiday, happier. Just take it from our new Home, Happier Team: culinary personality and cookbook author Katie Lee Biegel; interior designer and TV personality Jeremiah Brent; sleep wellness specialist Dr. Shelby Harris, and storage and organization expert Eryn Donaldson. Each have selected their fave ideas for gifts this season, including an air fryer that's also a convection oven and toaster, a cozy-chic blanket, a wildly ingenious alarm clock, and a luxe Lucite and gold desk set. With gifts this great, you might just want to nab a few for yourself while you're shopping.
Katie Lee Biegel's gifts for cooks, cocktail makers & coffee lovers (hello, everyone!)
Make someone's day, if not their whole year, with a Nespresso® machine. It makes a barista-perfect coffee, espresso, latte, or cappuccino with a simple push of a button, pours five different cup sizes, and is super easy to clean. This monogrammed plaid mug goes great with the coffee machine, and it's also a cute gift idea for teachers and caregivers, especially if you fill it with a bag of coffee or hot chocolate! Upgrade your friend's cocktail and mocktail game with a 6-piece mixologist set. With a beautifully designed shaker, beaker, muddler, and more, it's a gift that keeps on giving. And whether you're making delicious drinks or just trying to stay hydrated, a sparkling water maker is one of those how-did-I-ever-live-without-this kind of things. It turns tap into carbonated water within seconds, and its slim design fits nicely on any countertop.
When it comes to cooking, this 10-piece stainless steel set is an amazing gift for a young person who's just starting out, or even that someone you know who miiiiight just benefit from some new pots and pans. "This set has all the essentials, and I love the clear lids so you can see what's happening while you're cooking," says Biegel. And then there's an air fry oven, aka the latest and greatest kitchen invention. This one is an air fryer, convection oven, and toaster all in one. It cooks with low oil, has a unique space-saving design, and is a great price.
Follow Katie Lee Biegel on Instagram @katieleebiegel
Jeremiah Brent's gifts for style makers & those who love to decorate their homes
Monogrammed towels are such a thoughtful gift, something that you may not think to buy for yourself. These hand towels from Nestwell™ come in so many colors and can be monogrammed in 11 different fonts, plus they stay super soft, wash after wash. Speaking of cozy, this chenille throw blanket delivers all the warm fuzzies. "It feels exactly like your favorite chunky cardigan," says Brent. The knit design is just as chic as it is comfy, so it looks great at the foot of a bed or folded over a chair. As for this table runner, it might not be the most expected gift—and that's exactly the point. It's a unique and affordable present for someone who loves to entertain (or just hang out at home!) and the clean and modern pattern is timeless.
Gift the table runner along with a matching set of cotton napkins, and for an extra-special touch, add a few chic napkin rings. Like jewelry for the home, these gold stunners are the perfect blend of form and function. And you can never go wrong with a candle that's scented with bergamot, amber, and sandalwood. It comes in a ceramic container that's so beautiful, you'll want to repurpose it later as a little vase.
Follow Jeremiah Brent on Instagram @jeremiahbrent
Dr. Shelby Harris' gifts for people who need more sleep—or just love to sleep!
For anyone who considers a good night's sleep a gift in and of itself, any (or all!) of these items will be forever appreciated. Many restless sleepers swear by a weighted blanket, and this one in breathable cotton feels like a big hug. A tip from Dr. Harris: "I love a weighted blanket, but consider the weight. About 10% of your body weight is ideal." A pillow with medium support is superb for all sleep positions, and with a hypoallergenic down-alternative fill, this one is ideal for people with allergies—it's also super affordable. If you want to give someone the most ingenious gift ever, check out the Hatch Restore Smart Sleep Assistant. An alarm clock that wakes you with light rather than loud noise, it's also a sound machine, a soft-glow reading light, and comes with a meditation app.
A wi-fi tunable LED light bulb is another creative present to file under "who knew, but thank you!" It allows you to control your home lighting via an app so you can change the "color temperature" of a room to improve your mood and health. While a sleep mask is hardly a novel idea, this 40 Blinks style by bucky® is in a class of its own. The lightweight design blocks light without eye pressure and its contoured profile allows for easy blinking if you just want to rest, not sleep. Lastly, we've all likely tried out an electric blanket, but what about this one with three therapeutic heat settings, three massaging vibrations, and a cocoon-like design that wraps you up just right as you're winding down for bed? Nighty night!
Follow Dr. Shelby Harris on Instagram @sleepdocshelby
Eryn Donaldson's gifts for organizers, space savers & people who love beautiful objects
These stunning gifts are proof that organization can look as good as it feels. A 12-month planner is a great way to help someone start the new year off on the right foot. This sophisticated style in faux leather with metallic lettering includes weekly and monthly spreads, with inspirational quotes on each page. Pair the planner with a few desk accessories in matching gold and you've got a fashionably functional and affordable gift for both kids (cool school supply alert!) and adults (home office, elevated). This desk set comes with two luxe pens and a tray that's a perfect catch-all, while this Lucite and gold set is the chicest tape dispenser-stapler combo we've ever seen. A sleek glass spice jar is a favorite organizational hack: Use it to store thumb tacks, paper clips, and other odds and ends. But first, fill it with candy for a fun stocking stuffer!
If you're looking for something a bit more lavish, a Keurig® coffee maker is always a wonderful idea. Its streamlined design is ideal for small kitchens, it's so easy to clean, and brews a fresh cup of coffee in minutes. Add on this convenient rolling drawer and all those coffee pods have a discreet storage spot. The drawer fits right under the coffee maker and holds up to 36 pods. "I love this," says Donaldson. "It's such a clever way to organize and conceal coffee pods. A tidy kitchen counter is a must-have for me."
Follow Eryn Donaldson on Instagram @themodelhm