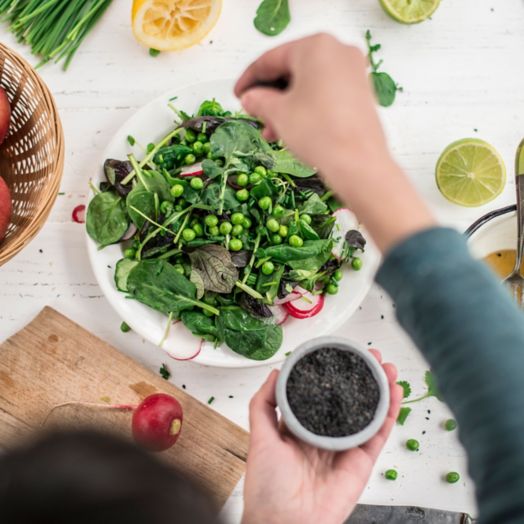 it's spring produce time! try these fresh and easy meals
what's in season at the farmer's market? we're sharing four more unusual favorites, and ways to transform them into quick and healthy dishes
After a winter of potatoes, carrots, and cabbage, springtime at the farmer's market feels like a breath of fresh air. The produce is bright, light, and a little bit unfamiliar, so it's a great time to experiment with new things. Enter: ramps, fava beans, morels, and rhubarb – just a few noteworthy and delicious vegetables that are so easy to prepare with a few simple steps.
Every April, typically in the third or fourth week, a certain excitement starts building throughout local farmer's markets. It's ramps season, and if you can get your hands on them, you're one of the lucky few. While they're related to leeks and scallions, ramps have their own uniquely pungent, almost nutty flavor. They're wonderful chopped and sautéed in a little butter or olive oil and added to simple eggs or pasta, or grilled and sprinkled atop homemade pizza. You can also try roasting ramps with salmon or a whole chicken, and if you want to make them last longer: Pickle them and serve on a crudités board with dips, cheese, and crackers. Whatever you choose, it's best to move quickly – ramps usually come and go within a few short weeks.
If spring had a flavor, it just might be the fava bean. In season from late March to early May, these bright green beans are crisp yet creamy, earthy yet a touch sweet. There's a bit of a method to preparing them, but it's actually very easy: First, shuck the pods by stringing them, pulling them apart, and popping out the beans. Discard the pods and blanche the beans in well-salted boiling water for about 8-10 minutes, then strain and cool them in a bowl of ice water. Last, remove the pale green (and bitter!) skin from each bean by pinching it between your fingers. From there, the favas can be added to herby salads, sprinkled on toast with fresh mozzarella and mint, or mixed into risotto and topped with a poached egg. But our favorite springtime dish may just be a simple yet scrumptious pasta: linguine with a little tomato sauce, garlic, and freshly shucked favas.
Harvest season for these prehistoric-looking mushrooms spans from early April to mid-May, when they grow in damp soil, usually in forests near streams. Morel connoisseurs prefer to pluck them when they're smaller and darker in color because they're most flavorful, so keep that in mind when shopping your farmer's market. To start, try buying a small portion of these little delicacies (they don't come cheap!) and making them your star ingredient. We love them sautéed on toasted sourdough with a few fresh shavings of parmesan, or atop a baked sweet potato with a dollop of miso paste. Before preparing, be sure to soak and rinse your morels longer than you would other mushrooms – their spongey texture is full of umami goodness but can also trap dirt.
We've all heard of rhubarb pie, but there are so many other delicious ways to prepare this spring vegetable that resembles bright pink celery (note: only rhubarb's stalks are edible, so be sure to remove and discard any leaves). Available at farmer's markets in late March to early April, rhubarb has a tart flavor, which is why it's so delicious in pies, tarts, and cobblers. But it's not just for dessert! Once you cook or bake it, try adding it to Greek yogurt with a drizzle of honey and crushed almonds. We're also fans of rhubarb sauces over proteins, as well as rhubarb, tomato, and cucumber salsa, or a rhubarb-strawberry jam made in a slow cooker.