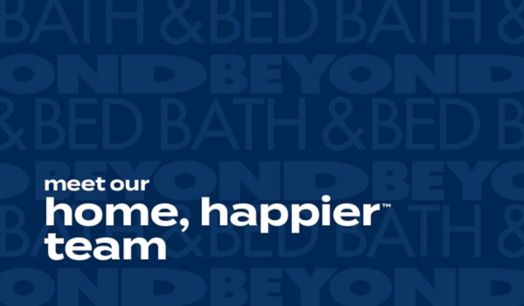 get to know the home pros
our advisory panel of experts is here to provide solutions, ideas, and inspiration to help you home, happier™
Our team includes culinary personality Katie Lee Biegel, interior designer Jeremiah Brent, storage and organization expert Eryn Donaldson, and sleep wellness specialist Dr. Shelby Harris. Each member brings their own unique background, expertise, and passion to help you maximize the potential of every room of your home.
For Katie Lee, co-host of Food Network's Emmy-nominated "The Kitchen," cooking wasn't just a hobby growing up—it was a way of life. Raised in a modest, tight-knit West Virginia family, each evening centered around the dinner menu. Eager to get involved, Katie began cooking at the tender age of 4 under the guidance of her mentor Grandma Dora. Using fresh vegetables from her Grandpa's garden and meat from the family's cattle and pig farms, Katie quickly learned the value of seasonal ingredients.
In addition to "The Kitchen," Katie can be seen regularly on Food Network shows "Best. Ever." and "Beat Bobby Flay" and as a judge for the popular "Halloween Baking Championship" series. She hosted three seasons of Cooking Channel's "Beach Bites with Katie Lee," and has the popular web series on FoodNetwork.com "Katie Lee Eats Meat, In Sweats" and "What Would Katie Eat?" Katie regularly appears in the kitchen on Rachael Ray and as a contributor on "Today".
She's written four cookbooks. Her first, "The Comfort Table," was released in 2008, soon followed by "The Comfort Table: Recipes for Everyday Occasions" (2009). She released "Endless Summer" in 2015, and her most recent cookbook, "It's Not Complicated," was released in March 2021. In addition to her comfort food cookbooks, she published her first novel, "Groundswell," in 2011. Katie was nominated for a 2017 Daytime Emmy in the category of Outstanding Informative Talk Show Host for her work on "The Kitchen".
Outside of her culinary and literary adventures, Katie is an ambassador for 96 Elephants and is on the board of the Food Bank of New York. Katie joined Revlon as an ambassador in January 2020. She also became an ambassador for WW in early 2021. She was featured in People Magazine's "The Beautiful Issue" as one of the "2020 Beauties of the Year" and works closely with the Wildlife Conservation Society.
When not working or volunteering, she enjoys surfing and traveling. She resides with her family in the Hamptons and NYC.
An artist from an early age, Jeremiah taught himself how to design and build furniture. Expanding upon his technical skills, he parlayed his love of artistry and fashion into decor and quickly gained notoriety in the interior design world. His "no rules" approach to California Modern style is inspired by the natural beauty of his home state and travels to the far reaches of the globe. Jeremiah curates his clients' homes to reflect those journeys and demonstrates that successful interior design is, above all else, a personal reflection of one's past, present, and future.
Jeremiah founded his design firm in 2011 and has since transformed countless homes, restaurants, and public spaces across the country. Featured in publications such as Domino Magazine, Architectural Digest, Elle Décor, and Harper's Bazaar, his work shows the effortless depth, fearlessness, and creativity behind his designs.
With a keen eye for style and craftsmanship, Jeremiah has established himself as both a tastemaker and influencer, continually inspiring those around him through various partnerships, television series, and branded collaborations. He was the host of the Emmy Award-winning show, "Home Made Simple" for two seasons on OWN. Alongside his husband and fellow interior designer, Nate Berkus, he launched the television show "Nate & Jeremiah By Design" on the TLC network which has run for two seasons. Brent also appeared in the Netflix series "I Do" from the executive producers of "Queer Eye." Next up, Brent and Berkus will return to television this fall in the new HGTV series "The Nate & Jeremiah Home Project."
In 2018, Nate and Jeremiah successfully debuted their exclusive furniture line with Living Spaces, featuring beautiful, timeless, and transitional pieces for the modern home.
He currently resides in New York with his husband Nate and their two children, Poppy and Oskar.
Shelby Harris, PsyD, DBSM is a clinical psychologist in private practice in Westchester, NY. She is board certified in Behavioral Sleep Medicine and treats a wide variety of sleep, anxiety, and depression issues using evidence-based, non-medication treatments. Her self-help book, "The Women's Guide to Overcoming Insomnia: Get a Good Night's Sleep Without Relying on Medication," was published by W.W. Norton Books in 2019.
Dr. Harris holds a dual academic appointment as Clinical Associate Professor at the Albert Einstein College of Medicine in both Neurology and Psychiatry. Before going into private practice, she was the longstanding director of the Behavioral Sleep Medicine Program at the Sleep-Wake Disorders Center at Montefiore Medical Center. She is frequently invited by hospitals, corporations, and parent/school groups to give sleep health workshops. Dr. Harris has been an invited columnist for the New York Times "Consults Blog" and is frequently quoted in the media, including the New York Times, New Yorker, Huffington Post, and O Magazine. She has appeared on "The Today Show," "World News with Diane Sawyer" and "Good Morning America".
Dr. Harris can also be found on Instagram at @SleepDocShelby, where she provides evidence-based information about sleep wellness and sleep disorders.
Eryn is the CEO and founder of The Model Home, a home organization company dedicated to helping you create and maintain organized spaces in your home.
As a former nationally-ranked athlete and fitness model, she was constantly traveling (typically last minute – so staying organized was an absolute must!). Eryn took this love for organizing and beautifying spaces and developed her own system, which she now brings to her hundreds of clients across the country.
Her clientele includes many celebrities and professional athletes, and her makeovers are regularly featured in People Magazine among other lifestyle media.